Eve Byron jokingly compares it to moving your house — on steroids.
For nearly a year, Montana Historical Society staff has been packing away what will eventually be nearly 60,000 artifacts to prepare for the 66,000-square-foot expansion of the current facility.
Boxes, full and empty, are scattered throughout the current building, which will be renovated. Cabinets and other items are marked as to whether they will stay onsite or temporarily moved.
The $81 million Montana Heritage Center at 225 Roberts St., is expected to open in late 2024 or early 2025, will have expanded galleries, so visitors can see more of the art and artifacts held in trust by the Montana Historical Society. It also will include meeting rooms for up to 300 people and a public café.
Byron, the public information officer for the Montana Historical Society, said the items will be move offsite, where they will remain for nearly two years.
Administration and other employees, their desks, computers, wiring and other essentials will be relocated to a state building at 910 Helena Ave., she said. The move will begin in March and be done in phases.
But not everyone and everything will move, Byron said, adding that museum and gallery personnel will be staying on site working on displays and design of the new building.
"We have some outside help, but we know the collections best," she said.
Byron called the temporary move and packing a "daunting task."
"If you've ever cleaned out your parents' home …" she said.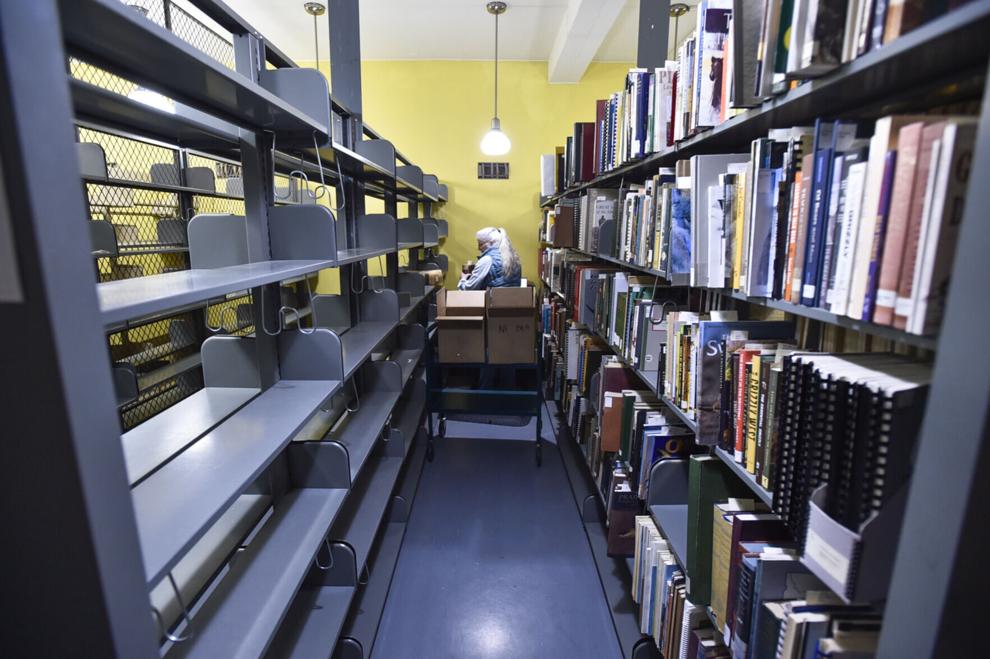 The museum closed four of its galleries in late December and plans to use the space for storage during renovations. The new galleries will be expanded, some will three times of their current size.
And last week the Historical Society announced it is loaning 20 Charles M. Russell paintings to the C.M. Russell Museum in Great Falls as the Helena museum is undergoing renovations.
Kendra Newhall, a senior registrar, said she has been preparing for the move for nearly two years.
"It's a long and hard process," she said as she stands near a cannon, half of a ship's helm and some kind of kitchen gizmo. "It takes a long time."
She's asked if she sees a light at the end of the tunnel in terms of packing.
"Some days it is awful cloudy," Newhall said.
Byron said some of the items are too big and fragile to move.
She said Big Medicine, the mounted white buffalo located by the reference center on the second floor, will remain at the museum through the renovations.
The Montana Historical Society board of trustees voted unanimously in October to return ownership Big Medicine, who has been part of the museum since 1961, to the Confederated Salish Kootenai Tribe.
The tribe asked for the buffalo to be returned, saying it was taken from their land at the National Bison Range on the Flathead Indian Reservation. There are plans to build a cultural center and display him there.
"We want to minimize the moving of Big Medicine as much as possible," Byron said, adding an enclosure would be built around him.
Byron said the contractor is expected to soon take down the wall that separates the 66,000-square-foot addition from the current building.
The current 70-year-old building also will be renovated with new classrooms and expanded galleries and research center.
Ground was broken on the center in September 2020, following a nearly 15-year effort to build a new facility. Officials have argued the current museum was outdated and did not have the room to display the state's extensive collections. It is designed by architects Cushing Terrell, being built by  Sletten Construction, and is expected to bring in 78,000 more visitors a year and create $7.5 million more in annual tourist spending.
Assistant editor Phil Drake can be reached at 406-231-9021.