New State Archivist Heather Hirotaka invites you to access the millions of records at the Washington State Archives and learn more about the state's and your history. In fact, Hirotaka made history herself. She is the first woman appointed to her position, overseeing the collection and retention of state and local government records, and more.
Access is one of her goals in her new job. "I want to open the archives to everyone," she says.
Hirotaka's New and Historic Role as Washington State Archivist
Secretary of State Steve Hobbs appointed Hirotaka to her new role and she began in July. The state archives is a division of the Office of the Secretary of State (OSOS). Hirotaka previously served as the OSOS director of community programs, including the Legacy Washington oral history and exhibit program. Before that, she worked in the Thurston County Auditor's Office where she managed archiving records.
Hirotaka will continue with the Legacy Washington program as state archivist. One of that program's recent exhibits, titled "Ahead of the Curve," celebrates the 100th anniversary of U.S. women gaining the right to vote. The exhibit also features Washington women trailblazers in the courts, education, business, philanthropy, governance and media. And now Hirotaka is part of that club.
Hirotaka Oversees Archives, a Terrific Resource
Hirotaka wants people to see the archives as a terrific resource. "We are connecting people to great stories and collections," Hirotaka says. "Understanding how collections matter to people is my focus."
These collections mean you can research government history like a legislative bill, a city council's minutes, a Governor's programs, an official visit by dignitaries, as well as potentially some of your own personal heritage. The millions of paper and digital records include not just official state and local agency business documents, but also many land records; birth, marriage, divorce and death records; court records; photographs; state and local newspapers; histories of local community events and people; and even scrapbooks. For example, the scrapbooks of Muriel Little, state Senate hostess, will soon be available at the Digital Archives.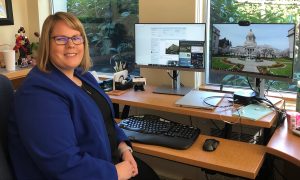 "We deal with many private individuals who come in," Hirotaka says. She says it brings joy to her staff when they can help locate a birth or death record needed to obtain benefits or find another critical piece of family history. "We close that loop for them in a way that can be life changing," she says.
Hirotaka's own family history is illustrative. Her husband is a fourth generation Japanese American whose family was forced into a World War II internment camp, forfeiting their farms outside Bellevue. "This is why this job gives meaning and value," she says of the State Archives' records, exhibits and programs. "It is so important for my daughter to know these stories. Otherwise, they are forgotten."
"We want to make sure that the people who contribute to the history of Washington are captured and heard," she adds.
Hirotaka Manages the State Archives, Regional Branches and Digital Archives
Hirotaka oversees about 60 staff at the State Archives, regional branches in Olympia, Bellevue, Bellingham, Cheney and Ellensburg and at the Digital Archives. She sings their praises. "They love and support the work we do," she says. "They are the true champions of the archives. All the credit goes to them. It is a great feeling to be a part of that team."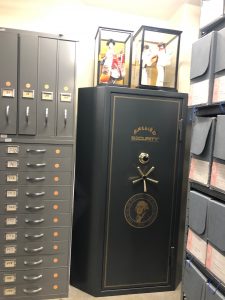 Hirotaka works in the main office on the East Capitol Campus. That office is mostly below ground. Reportedly designed as a Cold War fallout shelter, the building became an archive in 1963. However, almost 60 years later, that facility storing records in underground vaults presents problems – like water leaks – for preserving records dating back to the territorial days. Hirotaka says her division will be moving to a new facility in Tumwater in the fall of 2025, approximately.
Keeping Up with Public Interest and New Challenges
It's not lost on Hirotaka that current attention on the National Archives and preservation of federal records may translate to greater interest in states' archival requirements as well. "Especially for elected officials, it's really important that people understand about records retention and records management, and their responsibilities to retain records and meet retention schedules," she explains. Among other duties, her staff provide training on records management.
There's a lot on the horizon. In February 2023, the State Archives anticipates opening an exhibit recognizing the 10-year anniversary of marriage equality in Washington. Hirotaka and her staff also continue to work on ongoing or even unexpected challenges, such as emerging technologies that create records, or providing guidance on maintaining COVID-19 records. "How we preserve the legacy of these days is what matters, and COVID is no different," she says. "We stand ready to preserve that."
See the State Archives website for information about how to contact research staff, schedule an appointment to review records, or access records online.