Murder In Big Horn sheds light on Missing and Murdered Indigenous Women and Girls (MMIWG) in the greater Bighorn County area of Montana, a stretch that includes Billings as well as the Crow and Northern Cheyenne Reservations. In these cases, women disappear, jurisdiction is muddied, law enforcement is largely absent from investigations, arrests are rare, and convictions are almost unheard of. This new Showtime docuseries, which premiered earlier this year at Sundance, aims to explore the various barriers to justice that have led to this tragic pattern, as well as the historical and sociological factors that keep it going.
Murder In Big Horn shares a similar title and one of its directors (Matthew Galkin) with the network's 2019 true-crime series Murder In The Bayou, but it's very much its own thing, honoring co-director Razelle Benally's early filmmaking endeavors documenting Native rallies in South Dakota (she's Oglala Lakota and Navajo Diné) and her mission to make a contribution to her culture through her work. Sharing that mission is Luella Brien, General Manager and Editor of Big Horn County News from 2019 to 2021, a frequent interviewee—and later interviewer—in the docuseries, whose Crow name roughly translates to "keeping things good." She's our girl. And she herself has had multiple loved ones go missing, from her childhood friend's mother when they were babies to her paternal aunt Beverly Diane "Dee Dee" Brien in 1977. She also knew one of the victims centered in this docuseries, Selena Not Afraid, very well through her sons. As she insists, "these cases are not true crime to us; these cases are our relatives."
In addition to Brien, family members and friends of the victims, cultural and legal experts, and professionals directly involved with the case share their perspectives, primarily on prominent suspicious deaths and disappearances that rocked Big Horn County from 2018 through 2020, those of Henny Scott (14), Kaysera Stops Pretty Places (18), Shacariah "Blue" Harding (19, still missing), and Selena Not Afraid (16). Trends emerge in these cases: girls disappearing from house parties with older men present, their bodies found after days of searching with no signs of animals having scavenged them at all (suspicious with all the wildlife in the area), hypothermia ruled a reasonable cause of death (or something similarly passive in the case of Kaysera's summertime death; "she just lay down and died," the authorities have suggested). It does seem sketchy, and the community and family members interviewed all but roll their eyes at the suggestion that so many of these deaths were caused by hypothermia alone, the go-to cause of death when a Native woman's body is found.
Few law enforcement officers were willing to appear in this documentary. The Bureau of Indian Affairs and FBI have a no media policy for unsolved cases, and the Big Horn County Sheriff's Office seems to have a standard fellow-cop bro code. But the guy that shows up the most is former Undersheriff Eric Winburn, who was relieved of his position months after Selena Not Afraid's body was found. (Her dad was appointed Undersheriff next, so … there's that.) At the time of his interview, Winburn had retired comfortably to Idaho, and had no fear of retribution from current Sheriff's Office employees. He has a lot to say about his perceptions of the Crow and Northern Cheyenne communities—that they don't take good care of their kids, that they're eager to blame some "white boogeyman" for bad things that happen to their loved ones—and they're pretty classic sweeping generalizations one might expect from a white cop from a majority white area where the sentiment surrounding Natives is not great. But hey, he was willing to speak. Cool. If this show seems one-sided, its villains edited to appear almost cartoonish, that's a fair criticism. But if these dudes aren't willing to speak for themselves here, maybe that's on them.
G/O Media may get a commission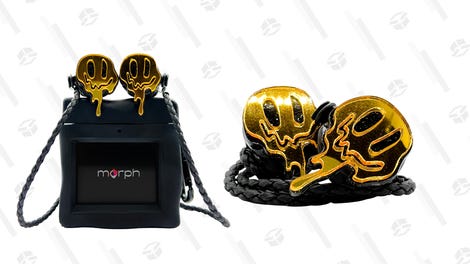 morph audio
Morph Earphones
SWAPPABLE FACEPLATES
Each set of Morph Earphones is crafted as a wearable street fashion accessory, as they come with swappable faceplates that you can switch out to change up your look at will. Choose from everything from trippy smileys to sakura blossoms and much, much more.
Winburn's perspective provides some insight into what these silent cops may also believe about the people they serve. But the cultural experts appearing in this series provide some background context for these claims, mainly systemic abuses, such as how Indian boarding schools that forced assimilation stripped people of their access to good parenting models and robbed them of their culture, leaving them dispirited and resigned to a sense of purposelessness. Risky behavior looks a lot more fun when a person thinks they don't stand a chance regardless.
As the episodes unfold, family members take up activist roles, hosting rallies and maintaining as much media attention as possible for the missing and murdered women they loved. Kaysera Stops Pretty Places' grandmother Yolanda Fraser organized various demonstrations in the area, and Selena Not Afraid's aunt, Cheryl Horn, presumably the last family member to have spoken to Selena before her death (dismissed as craving "her 15 minutes of fame" by former Undersheriff Winburn) hosted search party volunteers at the rest stop where her niece was last seen. Our girl Luella Brien, our journalist friend, assumes the role of interviewer in the series' final episode, talking to family members as well as key witnesses untapped by the BIA, FBI, and the Big Horn County Sheriff's Department. This leads to some potentially big reveals, some glaring incompetencies on the part of law enforcement despite growing awareness, and even the development of a government agency that President Trump named the Operation Lady Justice Task Force (oof), appropriately renamed the Missing and Murdered Unit by Secretary of the Interior Deb Haaland upon being sworn in.
Murder in Big Horn (2023) Official Trailer | Documentary | SHOWTIME
It's a running theme in true crime, isn't it, that law enforcement didn't do its job? That case is certainly made with Murder In Big Horn. And as is common in the genre, that's where journalists and filmmakers and podcasters step in to get at what really happened. If the final episode's seismic revelations and recent precedent are any indication, maybe this could all result in a rare conviction. But in any event, Murder In Big Horn provides education on and promotes awareness of a pressing issue facing Native American women, and that feat alone makes it something of a must-watch.
---
Murder In Big Horn premieres February 3 on Showtime.