New York City Mayor Eric Adams vowed crack down on surging crime in the Big Apple – but results have been mixed a year into his first term in office.
The Democrat and police leadership have celebrated that shooting and murder numbers have fallen, but other crimes are still trending upward as several high-profile crimes have critics calling for more to be done.
"He's the boss because the buck stops with him," said Charles Fain Lehman, a fellow at the Manhattan Institute. However, "it's not exclusively him," Lehman told Fox News Digital in a recent interview after Adams told a local publication he gave himself a B+ grade for his first year in office.
"From an executive agency perspective, I think you can place some blame at the feet of Albany Democrats. I think you can place some blame at the feet of the city council, they really do hamstring him," he added. "There are other policymakers involved." 
Adams was sworn in as mayor in 2022, with crime already spiraling during former Mayor Bill de Blasio's tenure and amid scrutiny over statewide criminal justice reforms that critics said resulted in dangerous criminals walking free.
Adams and the NYPD recently touted that shootings had decreased 17% in 2022 and murders fell 11% when compared to 2021 data. However, as those violent crimes fell, robberies, burglaries, felony assault, grand larceny and other crimes continued in the city, spurring major crimes to increase by 22% compared to 2021.
"I wanted to go after violent crime in general, but specifically, homicides, shootings, gun crimes, those crimes were terrorizing our city," Adams told the news site The City last month.
"People just felt that every time [they] heard a gunshot, or heard about another person being shot — it was traumatic."
The mayor added that he would give himself a "solid B+" grade for the work he has done in his first year, according to The City.
Adams' workload is massive to cut down on major crime, experts said, adding the mayor still has a long way to go before New York has crime at pre-pandemic levels. 
"All of the above," Lehman said when asked what the biggest crime challenges Adams is facing this year.
MASSIVE INCREASE IN BLACK AMERICANS MURDERED WAS RESULT OF DEFUND POLICE MOVEMENT: EXPERTS
The year 2020 was a wildly violent year for New York – as well as many areas all across the country – with murders and shootings skyrocketing by 44% and 97%, respectively. 
It was also a historically bloody year for the entire country. Murders spiked in 2020 as COVID-19 lockdowns upended daily life, and protests and riots swept the nation following the killing of George Floyd during an interaction with Minneapolis police. Murders increased by nearly 30% in 2020 compared to the prior year, marking the largest single-year increase in killings since the FBI began tracking such crimes.
The murder spike of 2020 has been attributed to a handful of variables, according to experts who previously spoke to Fox News Digital, including: anti-police rhetoric voiced by Black Lives Matter and defund the police proponents; the pandemic; a culture of lawlessness promoted by liberal district attorneys; and the "Ferguson effect" — when police pull back, violent crimes spike.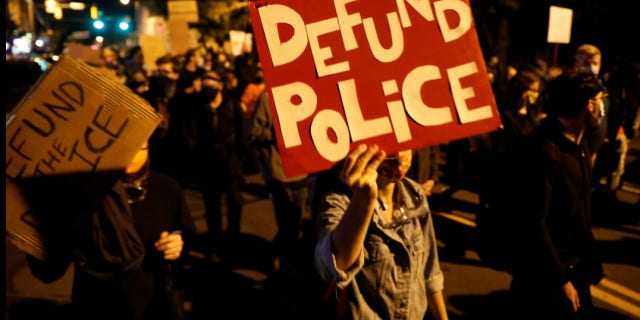 The spike in New York City's murders and shootings that year occurred under de Blasio's administration and at a time criminal justice reforms were being rolled out. Bail reform, most notably, went into effect in 2020 and eliminated cash bail options for most nonviolent crimes and misdemeanors. Adams has slammed bail reform as failing to protect victims, and creating a revolving door of criminals being apprehended by police only to be released onto the streets soon after. 
MAYOR ERIC ADAMS SAYS NYC HAS 'NO MORE ROOM' FOR ASYLUM SEEKERS
Adams is a former transit officer who then rose the ranks of the NYPD to captain before he was elected Brooklyn Borough president and then mayor of the city. He vowed on the campaign trail to crack down on crime, saying in July 2021 that New York had "thrown up our hands" and "surrendered our city" to the violence. 
"It's time for us to ensure our city is for the working-class, everyday people," he said at the time. 
Jillian Snider, a retired NYPD officer and current John Jay adjunct lecturer, said that Adams' one year in office "is not that much time" when assessing how he's handled crime, highlighting he took over "at a really bad time in history.
"He came in after COVID, crimes a mess, unemployment up. And we can't place blame on him for that," Snider told Fox News Digital. "But I think that he came in trying to come up with novel ideas, but really he wasn't. He was recycling things of days past."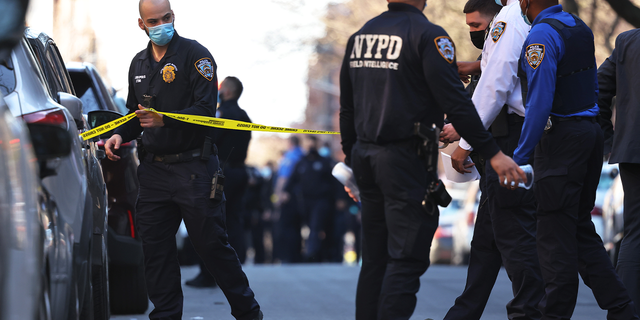 Snider pointed to the public safety team working to get illegal guns off the street, saying it was an "old anti-crime model" that Adams brought back and "threw a uniform on them." She said that bringing back the plainclothes unit that de Blasio did away with at the height of the "Defund the Police" movement, was "smart" but not anything "novel."
When asked about his campaign promises to drop the hammer on crime, Lehman said Adams is heading in the "right direction," but needs to "​go much further" and he's "not where he needs to be."
ERIC ADAMS ADMITS HE WAS 'SHOCKED' AT 'HOW BAD' NYC WAS BEFORE TAKING OFFICE
Among the issues Lehman said Adams needs to address is increasing the rate of police officers stopping and arresting individuals suspected of breaking a law. He commended Adams for reversing the de Blasio-era decision that did away with the NYPD's plainclothes unit and beefing up enforcement within the subway system that has been rocked by repeated violent crimes that have left some New Yorkers fearful.
He also noted Adams advocated for more mental health resources; and has not being quick to support the closure of the city's detention facility Rikers Island.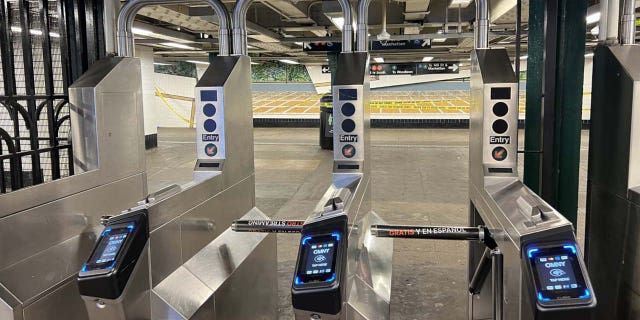 Snider said that Adams is working on his campaign promises of making the subway system safer and came through on his promise to bring back the plainclothes anti-crime unit.
"I'm not saying he successfully executed that plan yet," Snider said of Adams making the subway safer, but said a decline in crimes is already evident and ridership is increasing.
NEW YORK CITY MAYOR ERIC ADAMS TO APPOINT 'GUN VIOLENCE CZAR' AS SHOOTINGS, KILLINGS PERSIST: REPORT
Snider, however, is taking issue with Adams' relationship with the NYPD, characterizing it as oversized and him being too involved, which she says is ultimately hurting the NYPD.
"I just feel like police commissioners and mayors in the past, they've always had a very workable relationship. And that the police commissioner, obviously appointed by the mayor, is going to take some guidance and suggestions. But I don't even feel like that's where it's at right now," said Snider, who is also the policy director for R Street's Criminal Justice and Civil Liberties team.
NYC MAYOR ERIC ADAMS PROMISED TO CRUSH CRIME BUT IS BEING THWARTED BY REMNANTS OF HIS PREDECESSOR, EXPERT
Snider said that despite Adams having a strong leader in NYPD Commissioner Keechant L. Sewell and bringing back the position of deputy mayor for public safety for the first time since the 1990s, Adams is "too much involved."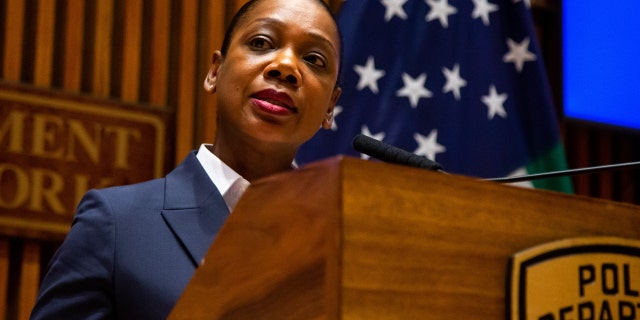 "I feel like he's just going in dictating how he wants stuff done and expecting her to execute and deploy as he says. And I don't think that he's affording her the opportunity to maybe come up with some ideas on her own. He takes credit for everything."
Snider said that it looks as if Commissioner Sewell is "put off to the sidelines" during press conference, despite the community wanting to hear from her. 
Snider argued that the mayor's involvement with the NYPD is "hurting" the department, because officers are questioning how much power Sewell holds despite generally liking her as a leader.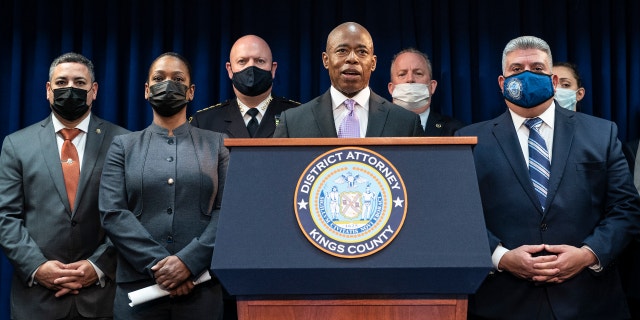 "I also think that for cops, it's one thing, but the community when they're watching television, and they just see a police commissioner who's standing on the side and a mayor who's doing all the talking. I think that makes the community – who doesn't really understand the nuances of mayor, deputy mayor, police commissioner – I don't think most people understand all that. They most probably think he is the police commissioner and the mayor," Snider said. 
Fox News Digital reached out to the mayor's office for comment, but did not immediately receive a reply. 
CLICK HERE TO GET THE FOX NEWS APP
"I'm so excited about 2023," Adams told The City last month. "We got some good stuff in the pipeline."
"I love doing my job," he added.