Dinosaurs, animals and children filled the Center Field Plaza at Dodger Stadium on Monday as the Los Angeles Dodgers kicked off their 19th annual "Dodgers Love L.A. Community Tour" by hosting Worthy of Love and 500 unhoused families for a birthday celebration.
The event was held on the eve of what would be Jackie Robinson's 105th birthday. Former Dodgers players Dennis Powell and Darrel Thomas were there to celebrate Robinson and his commitment to community service. It is the fifth time the Dodgers have hosted the birthday bash.
"This is one of, I think one of, our most exciting events every year where we partner with Worthy of Love as part of our community tour sponsored by Bank of America," Dodgers senior director of government and community affairs Kristin McCowan said.
"And we get to welcome, in this case, this year, 500 homeless children and their families to have the best birthday party ever at Dodger Stadium."
Worthy of Love, which is celebrating its 10th anniversary, has a mission to throw birthday parties for families who are experiencing homelessness. It was founded by Mary Davis, who was inspired by a gift she received from a teacher when she was lonely on her birthday as a five-year-old.
"I felt so seen, I felt so loved," Davis said. "And I knew when I met so many homeless kids in Los Angeles, I wanted to do the same thing for them. Give them a token that says you are worthy of love.
"And they can carry that like I have for the rest of their lives, so they know that their life matters and that they are worthy. When you're experiencing homelessness, you lose a lot of dignity, and we want to restore that dignity by saying you are worthy."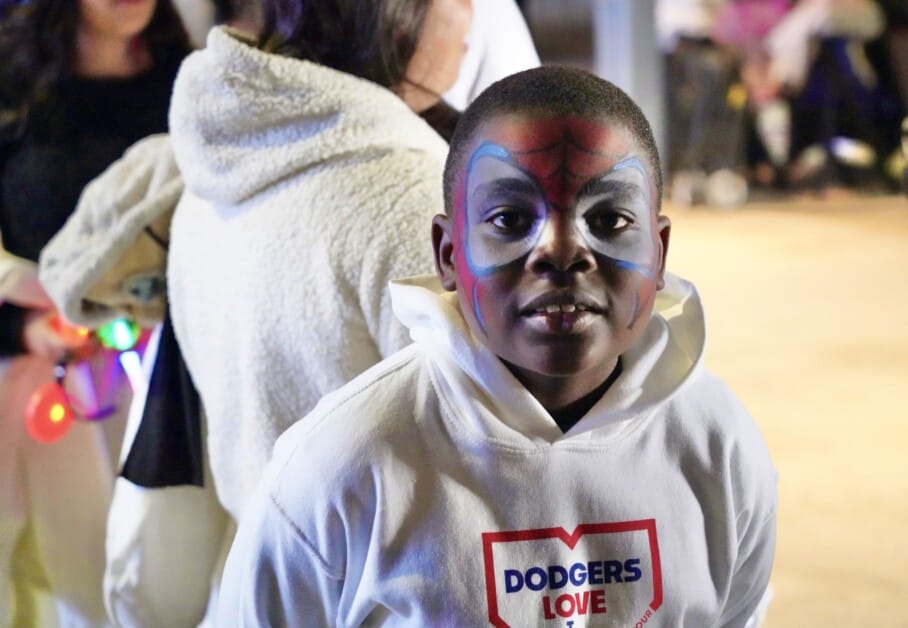 The Dodgers hosted families from homeless shelters in Westwood, Sylmar, Skid Row and Compton for the event.
"All you had to do was be born and your birthday is very important day," Davis said. "When you're going through circumstances like they are, it's really hard, and to normalize your environment by giving them such an unbelievable, incredible memory, they'll remember it for the rest of their life."
The event had a lot of activities for the families to participate in, including a dance party with dinosaurs hosted by Boomer — Worthy of Love's DJ and MC — dinosaur riding, face painting, a teddy bear building booth, balloon artists, a coloring table, and a petting zoo that featured a camel named Herbie, who was in the middle of the Center Field Plaza.
In addition, there was also food from California Pizza Kitchen, and the Dodgers had a special birthday cake made for the celebration.
"Although I don't like dancing, I love the DJ and all the music," McCowan told DodgerBlue.com. "And they have these really great moments that they do every time where everyone stands around, dances together and sings together.
"And I really love the camaraderie of that, it really makes it like a family, and we're all supporting one another. So I love that part. But I love seeing the kids and the joy on their faces when they get the toys and all the special gifts."
At the end of the night, McCowan announced the Dodgers were donating $5,000 to Worthy of Love, and added they look forward to hosting the event again in the future.
The Dodgers are holding community events throughout the week as they build up to FanFest at Dodger Stadium on Saturday, Feb. 4.
The 2023 community tour will feature 10 events throughout Los Angeles County with participation from Dodger players, coaches, alumni, and front office staff in addition to Bank of America employees.
"This year, we will be traveling to various areas throughout Los Angeles County," McCowan said. "From Long Beach to Sylmar, and the West Side to South LA, every community is part of the extensive Dodgers' family and we're looking forward to providing resources and fun-filled experiences to fans throughout the week."
Make sure to follow Dodger Blue on Instagram! It's the best way to see exclusive coverage from games and events, get your questions answered, and more!